RayBan
Try our top rated sunglasses and start your own trend. Find the best sunglasses and glasses to match your style from our selection of the coolest frames, lenses, and colors.
Fun Fact: Genuine since 1937, the classic G-15 was originally developed for military use, offers a high level of clarity, comfort and protection.
SPINE http://www.spineoptics.com/
Spine Optics
www.spineoptics.com
Eyewear With Backbone. Explore the Video. Back to top. Facebook; Twitter; Instagram
Here at SPINE we solve complex problems through intelligent engineering. Form follows function; aesthetics are dictated by technology and the solutions their relationship offers. Science takes center stage.
Inspired by the interaction between vertebrae, SPINE solves age old hinge limitations. Unencumbered by traditional parts and manufacturing processes, we strive to out-think the competition.
There are no screws loose here - because there are no screws used in SPINE working mechanics. Accidental impacts are glanced off as SPINE moves in all directions, absorbing and dissipating shocks thus greatly reducing breakage.
Temples shut automatically.
Yes, they really do
---
VERA WANG
Vera Wang
www.verawang.com
Discover Vera Wang's iconic wedding dresses. Browse the complete Vera Wang collection of bridal gowns and designer ready-to-wear fashion from Vera Wang.
Known for her exquisite detail and modern, sophisticated approach to classic style, Vera Wang has once again designed an exceptionally beautiful and functional product with her eye wear collection. She has translated her aesthetic into eye wear and created the ultimate accessory of subtle elegance and simple beauty to flatter any women's face. Elegant, Refined and Luxurious - Vera Wang
---
NEW BALANCE
The story of New Balance begins at the dawn of the 20th century in Boston, Massachusetts when William J. Riley, a 33 year-old English immigrant committed himself to helping people with problem feet by making arch supports and prescription footwear to improve shoe fit. 100 years after a humble beginning, New Balance remains committed to their heritage of fit and comfort for athletes all around the world.
New Balance products are the perfect blend of function and fashion, giving you the performance technology you need and the style you want.
As in New Balance footwear, the New Balance Eyewear collection features the New Balance trademark of: • Fit • Performance • Comfort
The spirit of the first eye wear collection incorporates freedom of movement through careful design and lightweight materials and bold sport spirit through striking color combinations.
Color. Color. Color…
This being a key element in NB footwear design—likewise in ophthalmics and sunglasses both, they've played with unexpected color combinations using 3 or 4 colors in one frame.
A combination of vintage and modern shapes and a total of 14 polarized sun glasses models and 24 optical models will be introduced. This first collection is more of a lifestyle "after-the-run", trend-conscious offering. However, in the future, authorized New Balance Eye wear retailers that have pioneered the brand, will be offered collections integrating patented performance features, speaking more to the hard-core sport-active consumer.
OAKLEY
Established in 1975 and acquired in 2007, Oakley is one of the leading product design and sport performance brands in the world, chosen by world-class athletes to compete at the highest level possible. The holder of more than 850 patents, Oakley is also known for its innovative lens technologies, including PRIZMTM. Oakley extended its position as a sports eyewear brand into apparel and accessories, offering men's and women's product lines that appeal to sport performance, active and lifestyle consumers. As of December 31, 2018, the Group operated 361 Oakley "O" stores worldwide (including 81 franchised locations).
Versace
Versace is one of the world's most iconic and famous luxury fashion houses. Proudly Italian, it is designed for men and women who desire a modern and glamorous style that combines sophistication and sex appeal. The Versace Group is the epitome of sensual glamour, sexy and empowering; a true symbol of Italian luxury. At its heart is Versace, a leading design house and the center of creativity that is flourishing globally. The eyewear collection, under license since 2003, combines technical innovation with the essence of the brand and bears the distinctive visual details the fashion house is known for.
BURBERRY
Since its founding in England in 1856, Burberry has been synonymous with design, craftsmanship and innovation. Now Burberry has become a leading fashion luxury brand with a global business and a distinctive British identity. The eyewear collection, under license since 2006, is inspired by the brand's innovative ready-to-wear and accessory collections and incorporates recognizable iconic elements for both men and women.
COACH
Founded in 1941 as a family-run workshop in a Manhattan loft, Coach has grown into a leading American fashion brand for women and men around the world. Under license since 2012, the Coach eyewear collection perfectly expresses the effortless New York style and the authentic American heritage.
---
Eco
https://www.modo.com/eco-optic...
Optical Eco - MODO
www.modo.com
Follow MODO's innovation, social responsibility programs, and latest releases in our newsletter. SIGNUP
Eco was conceived by alessandro lanaro, founder of modo. his idea was to create the first eyewear brand sustainability and social responsibility as pits primary commitments.
Eco is the only eye wear brand made of 95% recycled content. a tree is planted for every frame sold. Eco empowers customers to donate their unwanted eye wear to people in need by reusing the Eco's packaging, which contributes to providing the gift of sight to 314 million adults and children without proper eye care worldwide. Eco's mission has become a game changer in the industry. As Alessandro says, "this is not just about a new hinge."
LOOK GOOD being environmentally friendly and looking good is the best of all worlds!
Eco is designed by the boutique eye wear firm MODO to be on trend and easy to wear.
FEEL GOOD Eco bio based eye wear is made from 63% plant based materials certified by the USDA. Eco recycled is the only eye wear brand in the world made of 95% recycled materials plus, we are certified by UL environment, so when you purchase ECO, you minimize the use of new resources.
DO GOOD Eco plants a tree for each frame you buy. We have planted one million trees in Cameroon to date!
The story of MODO https://www.modo.com/
Modo Eye wear
www.modo.com
Designs and produces optical frames and sunglasses in New York.
Heritage
Born in New York in 1990, modo is a global brand with offices in New York, Milan and Stockholm. Using the cities we live and work in to shape our collections, we unite the progressive spirit of New York Italian craftsmanship and Scandinavian minimalism in perfect harmony.
Purpose
In 2016 we launched the buy a frame help a child see program in collaboration with SEVA foundation. Today we have helped more than 650000 children in India to see by offering free vision screenings, prescription glasses and corrective treatments. we are proud to be an eye wear industry leader in social responsibility
Paper thin ultra
Defined by slim silhouettes, innovative screw less hinges and simple constructions, the minimalist collection of ultra thin frames combines design and function for beautiful results. Pushing the limits of innovation and comfort, these are some of the lightest optical frames in the world.
---
http://www.westgroupe.com/defa...
With over 50 years of industry insight, WestGroupe's mission has always been to provide unique and superior quality eyewear for the fashion-focused consumer. The company is driven by their customer commitment to excellent service and exceptional product.
Wes tGroupe is dedicated to defining future standards in the optical business by developing, creating, and supporting innovative products and services that allow customers to succeed. West Groupe offers a premium selection of international brands in over 40 countries, including , FYSH UK, EVATIK and Superflex.
Evatik
the evatik collection distinct style inspired by a perfect balance of eyewear intelligence and novel influences. discern the sophisticated combination of high quality fabrications, light weight materials and compromised engineering.
With an equal focus on fit, function and aesthetics, EVATIK Eye wear strikes the perfect balance between comfort and luxury. Clean, understated designs are elevated by high quality materials such as handmade acetate, high grade stainless steel, Japanese titanium and European hinges. Deep, rich, masculine colors and custom design elements define the collection, creating the perfect eye wear accessory for today's modern man.
Fysh
FYSH UK is a unique brand of fashion eyewear designed for the woman who embraces her own sense of spirit and style. FYSH UK combines key fashion influences with leading European eye wear trends, creating beautifully designed eye wear in an array of bold colors with intricate detailing. Eye shapes are designed with a deeper B measurement, providing a modern look that is perfect for the progressive lens wearer.
The Superflex collection is an affordable lifestyle collection that caters to all market segments. Frame materials include stainless steel, acetate, aluminum and handmade acetate. Designs range from elegant classics to contemporary for both men and women. All frames are designed with spring hinges temples for added comfort, fit and durability.
Superflex kids
Superflex Kids frames are designed for both fit and fun and are constructed with spring hinges for extra durability, comfort and fit. While form and function always come first, great colors and funky temple detailing make this collection a fun fashion statement for kids of all ages.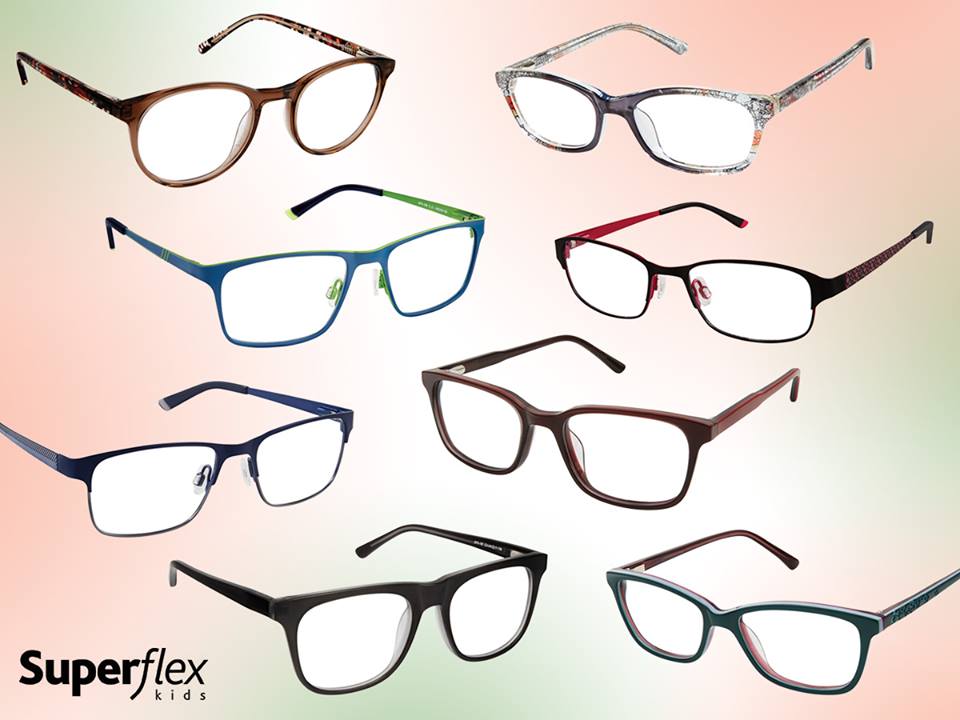 Superflex titanium
Superflex Titan offers the great styling of the Superflex collection in titanium.
The Superflex Titan collection is strong, lightweight and hypoallergenic while incorporating contemporary, modern designs at an affordable price for both men and women.
Ralph Lauren has made an indelible imprint on the fashion world with his collections for men and women. Today, his signature themes - Hollywood romance, town-and-country heritage, cosmopolitan city-chic and Art Deco glamor - extend into the world of Ralph Lauren eyewear. With sleek modernity and classic proportions, each pair is a vivid expression of the designer's elegant, sophisticated style
POLO RALPH LAUREN
Representing Ralph Lauren's iconic status as a designer recognized throughout the world, Polo Ralph Lauren reflects a celebrated vision of classic yet spirited American style for men and women. Timeless and authentic, Polo Ralph Lauren is the enduring symbol of a modern-day American lifestyle: easy, energetic, young and cool.
https://www.toryburch.it/
Tory Burch is an American attainable luxury lifestyle brand that embodies the unique sense of style of its chairman, CEO and designer, Tory Burch. Launched in 2004 with her now iconic Reva ballet flats and the tunic, the brand further expanded into accessories, apparel and beauty. Known for her bohemian preppy aesthetic, Tory Burch launched its eyewear collection with Luxottica in 2009. Her bold use of color, graphic prints and eclectic detailing are all signatures of the brand.
---
Choosing the Right Frames
Glasses say so much about your personality and personal style. At True Vision Eye Centre, we are happy to work with you in selecting frames that complement your features. Our experienced optometry professionals work closely with you to select the proper frames to fit your budget as well as your cosmetic, lifestyle, and vision needs. While working with our experienced staff enables you to select the appropriate frames, we invite you to learn more about which frame styles complement various face shapes.
Select Your Frames

Square Face
A square face is often characterized by a strong jaw line, a broad forehead, and a wide chin and cheekbones. The width and length of the face are close to being equal. Frames should be selected to make the face look longer and to soften the square angles of the face. Choose frames that are slightly curved (like an oval shape) and that have more horizontal than vertical real estate.
Oval Face
The oval face is identifiable by its balanced proportions. The forehead is slightly wider than the chin and cheekbones are high. Frames should complement the natural proportions of the oval. Choose frames that are wide or wider than the broadest part of the face and that follow your brow line. Often, diamond or rectangular shapes work best for oval shapes.
Oblong Face
Although fairly similar to an oval shape, an oblong face is longer than it is wide. The ideal frames will shorten the face by creating a break in the length of the face. Choose frames that have depth and a low bridge to shorten the nose. Try frames that are round, deep, have low-triangle shapes, or that have strong vertical lines.
Round Face
A round or full face is characterized by having the same width and length. For round faces, frames that add length to the face often work best. Frames that lengthen the face are typically angular, narrow and are wider than they are deep. It is best to avoid round style frames as these will exaggerate the roundness and curves of the face.
Heart Shaped Face (or Base-up Triangle)
A heart shaped face looks like a heart or a triangle with the point facing down. The forehead is very wide and cheekbones are high while the face narrows towards the chin. Counterbalance the narrow chin by choosing frames that are wider at the bottom. Generally, light colored and rimless frames work best, although aviator, butterfly and low-triangle styles also work well.
Base-down Triangle Face
A base-down triangle face has a narrower forehead with full cheeks and a broad chin. To offset a broad chin, select frames that widen at the top. Great selections include frames that have heavy color accents and detail on the top part of the frames. Cat-eye shapes also work well to add width and emphasize the narrow upper part of the face.
Diamond Face
A diamond shaped face is often characterized by high, dramatic cheekbones with a narrow eye line and jaw line. This shape is the rarest of all the shapes. Oval frames that are soft in style typically work best to highlight the eyes and cheekbones. Select frames that have detailing, distinctive brow lines, are rimless or a cat-eye shape for best results.
This is a general guide and is only intended for reference. Our experienced and trained staff will assist you in selecting frames what work best for your lifestyle.